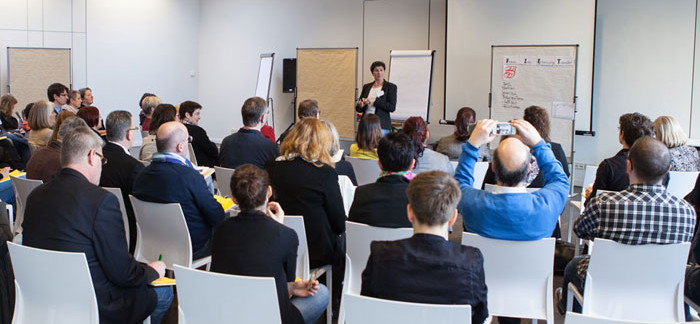 Trainingsdesign
Your training does not achieve what it should achieve?
Your participants do not actively take part in the training?
Your trainings are extremely exhausting to you?
After a training which did not go to plan, doubts often set in. Are my trainings good enough? Can I improve on anything? Could the success of the training be linked to me and my efforts as a trainer?
With regards to the success of the participants, a trainer has more influence than often assumed. Those who create, design and plan their trainings meticulously and with great attention to detail can achieve much more than ordinary, off-the-rack trainings.
Plan the interactive adventure which your training participants will never forget!
To me, this process has a name: training design.
A training designer focuses on all activities which happen before the trainer steps into the training room. He considers all processes before, during and after a training, no matter if the trainings are created for him/herself or for other trainers. This means taking into consideration all processes, anticipating all possible outcomes, paying close attention to the participants and thus creating a training which will tick all of the boxes for the employer.
I offer two opportunities:
Become a Training Designer
I offer a fundamental course for participants to become training designers themselves. This training is aimed at internal trainers as well as Human Resources developers and experts in this field.
Training Design Coaching
This coaching is for you if you want to design a training from start to finish or wish to take an existing concept and put it under close scrutiny. At the end you will have a finished design and many new ideas for the implementation of your next training. The target group for this training are external trainers, internal trainers and experts in this field.
<style>.at-about-fab { z-index: 999999; position: fixed; right: 150px; bottom: 120px; display: -webkit-box; display: -ms-flexbox; display: flex; -webkit-box-align: center; -ms-flex-align: center; align-items: center; -webkit-box-orient: horizontal; -webkit-box-direction: normal; -ms-flex-direction: row; flex-direction: row; -webkit-transform: translateX(100%); transform: translateX(100%); -webkit-transition: 0.2s ease; transition: 0.2s ease; -webkit-font-smoothing: antialiased; -moz-osx-font-smoothing: grayscale; } <!-- [et_pb_line_break_holder] --><!-- [et_pb_line_break_holder] --><!-- [et_pb_line_break_holder] -->.at-about-fab:hover .at-about-fab__meta { opacity: 1; } .at-about-fab__thumbnail { position: absolute; top: 50%; left: -58px; background: none; width: 260px; height: 294px; padding: 4px; -webkit-box-sizing: border-box; box-sizing: border-box; -webkit-transform: translateY(-50%); transform: translateY(-50%); overflow: hidden; cursor: pointer; } <!-- [et_pb_line_break_holder] --><!-- [et_pb_line_break_holder] -->@media all and (min-width: 768px) and (max-width: 1024px) {.at-about-fab__thumbnail {width: 230px; height: 260px;}}<!-- [et_pb_line_break_holder] -->@media all and (min-width: 768px) and (max-width: 1024px) {.at-about-fab__thumbnail img { display: block; width: 80%; }}<!-- [et_pb_line_break_holder] -->@media all and (max-width: 767px) {.at-about-fab__thumbnail {display:none;}}<!-- [et_pb_line_break_holder] -->@media all and (max-width: 767px) {.at-about-fab__thumbnail img { display: none; }}<!-- [et_pb_line_break_holder] --><!-- [et_pb_line_break_holder] -->.at-about-fab__thumbnail img { display: block; width: 100%; } </style><div class="at-about-fab"> <div class="at-about-fab__thumbnail"> <img alt="ebook" src="https://annalangheiter.com/wp-content/uploads/2018/02/eBook-Website-230px.png" /> </div> </div><script></script>