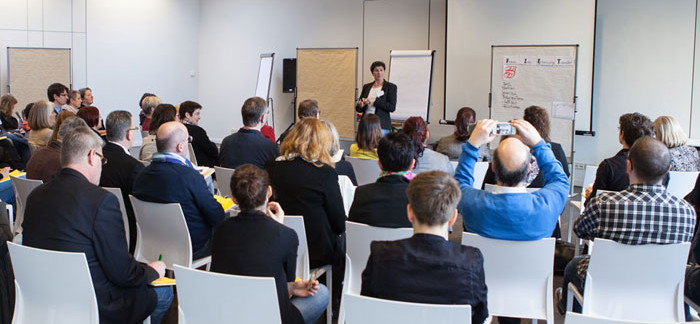 "Keep the passion for making a real difference."
Harry Sinko
VP Global Improvement Services, Soarent Vision, Australia
"Anna Langheiter is an inspiration, bringing the knowledge across to the participants in a very engaging and skillful way. She maintains the focus of the participants, using energizers. "
Jeanette Teles
Manager Continuous Improvement, Alstom Power – Steam Business, Schweiz
"Thank you very much for the excellent time and education. You are doing an amazing job. Very dynamic, effective and successful, beside travelling around the world."
Emin Öztemel
Managing Director, Cilek, Turkey
Trainingsdesign-Coaching
Nicht jedes Training läuft für uns Trainer stets so ab, wie wir uns das vorstellen. Manchmal haben wir aber auch das Gefühl, dass etwas Grundlegendes nicht stimmt und dass wir etwas ändern müssten. Sie wollen, dass Ihre Teilnehmer, Ihre Auftraggeber und Sie selbst wirklich zufrieden mit den Trainings sind, die Sie tagtäglich geben? Trainings können von Grund auf besser werden, nämlich mit einem kurzen, komprimierten und effizienten Coaching, das genau auf Sie und Ihre bisherige Trainingserfahrung zugeschnitten ist. Im Grunde können Sie sich den Fortgang wie in einem Didaktik Coaching vorstellen – nur besser! Denn das Trainingsdesign Coaching vermittelt nicht nur das "Wie", sondern auch das Designen von Trainings. Zum Trainingsdesign Coaching bringen Sie Ihr Training mit und wir schauen gemeinsam, was daran noch eine Änderung braucht. Am Ende haben Sie nicht nur ein fertiges Design, sondern Sie nehmen auch viele Ideen für die Umsetzung Ihrer nächsten Trainings mit. Bringen Sie einfach Ihren Inhalt zum Coaching mit. Basierend auf Ihrer Frage machen wir dann entweder eine  Trainingsbedarfsanalyse oder wir springen sofort ins kreative Re-Design, damit der Inhalt treffsicher weitergegeben werden kann. Gleichzeitig erhalten Sie von mir Anregungen, wie Sie das designte Training gut in die Umsetzung bringen können.
An wen richtet sich  das Trainingsdesign Coaching?
Externe Trainer, interne Trainer, Fachexperten und jeden, der Trainings durchführt, die:
Pfiff und Interaktion in ihren Trainings vermissen.
vorgegebene Trainings trainieren und merken, dass das nicht fruchtet.
möchten, dass ihre Trainings spannend sind und einen roten Faden haben.
zwar gute Inhalte haben, aber noch keine guten Bewertungen bekommen.
Interaktionsaufgaben, Übungen und Simulationen brauchen, die zu ihren Inhalten passen.
nicht wissen, wie sie ihr Wissen rüberbringen sollen.
wenig Trainingserfahrung haben.
Bei Interesse kontaktieren Sie mich bitte.