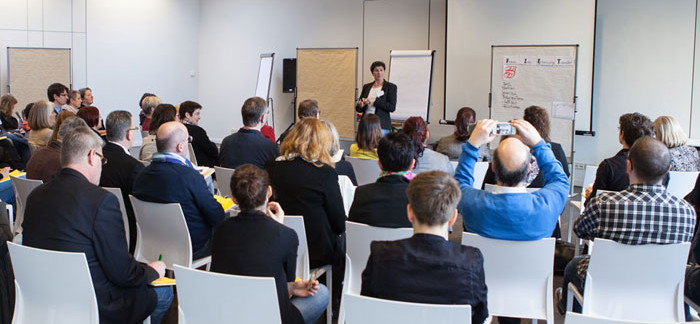 Training Programme for Training Designers
As a trainer, you will definitely notice the development of the industry: there is a steep increase in the need for custom-fit concepts for further training. Trainers who continue to train with off-the-rack training designs are out of fashion. A deep understanding of the company and its particular needs and requirements is increasingly moving to the foreground.
Many trainers are open to these requirements and are keen to take the challenge. They are interested to filter out the needs of their customers in order to develop excellent trainings. There are a variety of tools, ideas and methods to continuously surprise the customer. In order for the trainings to reach their goals and the distinguish oneself from what other trainers can offer, the step towards becoming a Training Designer is essential.
From Trainer to Trainingdesigner
Training design concerns itself with all those activities required to undergo and plan before stepping into the training room. In the training programme to becoming a training designer you will learn the most important tools of a detailed training needs analysis, on which the training will build. You will receive the know-how of how to set learning objectives and how to discuss the contents of the training with the company in question. With the help of a four-step process, consisting of focus, information, experience and transfer, training contents will be converted into a creative, interactive and transfer-oriented training. At the end of the seminar you will have a finished concept for one sequence of your training.
Who is the training programme directed at?
The training is aimed at internal and external trainers, field experts with training experience and Human Resources developers, who:
want to develop their trainings according to customer needs
want their participants to apply what they have learned in trainings
wish to learn a better way of approaching the planning of trainings
feel that PowerPoint is overused and want to replace it with more interactive methods
are looking for new exercises, energisers and approaches
are looking for new, creative and even unusual ideas
want their trainings to be exciting, different and sustainable
would like to extend their role as trainers to »Learning Facilitator«
Further information concerning the agenda can be found in this broschure.