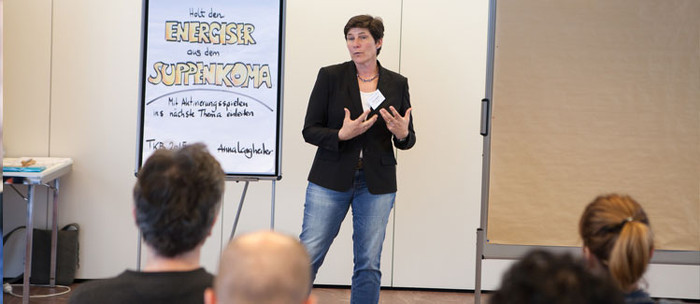 "Keep the passion for making a real difference."
Harry Sinko
VP Global Improvement Services, Soarent Vision, Australia
"Anna Langheiter is an inspiration, bringing the knowledge across to the participants in a very engaging and skillful way. She maintains the focus of the participants, using energizers. "
Jeanette Teles
Manager Continuous Improvement, Alstom Power – Steam Business, Schweiz
"Thank you very much for the excellent time and education. You are doing an amazing job. Very dynamic, effective and successful, beside travelling around the world."
Emin Öztemel
Managing Director, Cilek, Turkey
design.train.mastery – real tools for sustainable transfer of knowledge
You have already spent a lot of money on the training of your employees and your internal trainers? At the same time, you feel as though any effects do not last long enough? You feel like every year, you need to invest in new trainings and further education? This is about to change. If you invest into the design of trainings, you can gain even more.
How is the day-to-day business? Oftentimes, one realises that there is something wrong when one tries to define the problem. The development of training absolutely contributes to the clarification of contents; this I have seen time and time again. My work creates the basis with which everything will go in the right direction and resources are used appropriately and sustainably.
Your company benefits from design.train.mastery:
You will receive a completely tailor-made training, exactly the way you need it
Your vision, strategy, company culture and values are incorporated into the training
You only have one-off train-the-trainer costs – afterwards your internal trainers are fit and ready
Your trainers are being developed and pass on their knowledge
You will profit from the trainer pool even for future projects
You will reach employee empowerment and receive invaluable loyalty of employees
You will get actively involved employees, which have real fun in trainings – that is how sustainability works!
design∙train∙mastery is the absolute win for you entire company. What could be better than to combine internal know-how of your company with external practical experience and knowledge of designing trainings for the most optimised and sustainable execution? There is nothing better.
And: The absolute win for you internal trainers
Any training can be prepared perfectly, but what counts in the end is that the trainer makes all the difference. In order to lift your trainers into the league of top-trainers of your company, I give them the necessary tools to achieve this goal.
With me, trainers get the best possible support they need in order to do an excellent job as company-internal trainers – by measures of context as well as their training skills.
The benefit of design.train.mastery for your internal trainers
They have the ability to train and pass on contents to other employees
They receive the didactical basics for a lively and sustainable training
They understand how training works
They know how to prepare their trainings well
They learn how to actively involve participants into the learning process
They give feedback on the learning process of individual participants
They improve their facilitation- and presentation techniques and learn to visualise difficult content in a simple way
They get the tools on how to deal with difficult situations and participants.
Internal trainers not only receive the necessary skills for an excellent training, but they can also use these soft skills as colleagues and leaders in the company at any time.
Do you have any burning questions? I support you with the analysis of the current situation, the clarification of the next steps and the creation of tailor-made trainings.
If you are interested please contact me.
<style>.at-about-fab { z-index: 999999; position: fixed; right: 150px; bottom: 120px; display: -webkit-box; display: -ms-flexbox; display: flex; -webkit-box-align: center; -ms-flex-align: center; align-items: center; -webkit-box-orient: horizontal; -webkit-box-direction: normal; -ms-flex-direction: row; flex-direction: row; -webkit-transform: translateX(100%); transform: translateX(100%); -webkit-transition: 0.2s ease; transition: 0.2s ease; -webkit-font-smoothing: antialiased; -moz-osx-font-smoothing: grayscale; } <!-- [et_pb_line_break_holder] --><!-- [et_pb_line_break_holder] --><!-- [et_pb_line_break_holder] -->.at-about-fab:hover .at-about-fab__meta { opacity: 1; } .at-about-fab__thumbnail { position: absolute; top: 50%; left: -58px; background: none; width: 260px; height: 294px; padding: 4px; -webkit-box-sizing: border-box; box-sizing: border-box; -webkit-transform: translateY(-50%); transform: translateY(-50%); overflow: hidden; cursor: pointer; } <!-- [et_pb_line_break_holder] --><!-- [et_pb_line_break_holder] -->@media all and (min-width: 768px) and (max-width: 1024px) {.at-about-fab__thumbnail {width: 230px; height: 260px;}}<!-- [et_pb_line_break_holder] -->@media all and (min-width: 768px) and (max-width: 1024px) {.at-about-fab__thumbnail img { display: block; width: 80%; }}<!-- [et_pb_line_break_holder] -->@media all and (max-width: 767px) {.at-about-fab__thumbnail {display:none;}}<!-- [et_pb_line_break_holder] -->@media all and (max-width: 767px) {.at-about-fab__thumbnail img { display: none; }}<!-- [et_pb_line_break_holder] --><!-- [et_pb_line_break_holder] -->.at-about-fab__thumbnail img { display: block; width: 100%; } </style><div class="at-about-fab"> <div class="at-about-fab__thumbnail"> <img alt="ebook" src="https://annalangheiter.com/wp-content/uploads/2018/02/eBook-Website-230px.png" /> </div> </div><script></script>