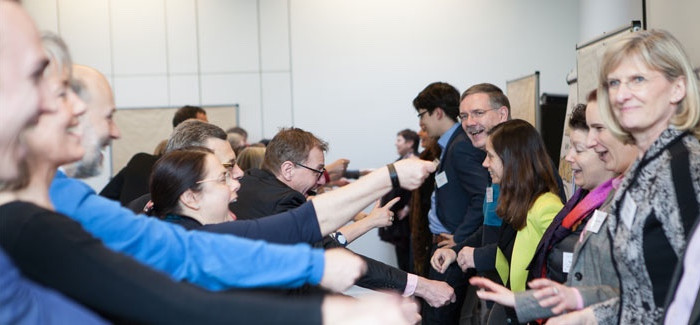 "Keep the passion for making a real difference."
Harry Sinko
VP Global Improvement Services, Soarent Vision, Australia
"Anna Langheiter is an inspiration, bringing the knowledge across to the participants in a very engaging and skillful way. She maintains the focus of the participants, using energizers. "
Jeanette Teles
Manager Continuous Improvement, Alstom Power – Steam Business, Schweiz
"Thank you very much for the excellent time and education. You are doing an amazing job. Very dynamic, effective and successful, beside travelling around the world."
Emin Öztemel
Managing Director, Cilek, Turkey
design.train.mastery – 5 Schritte, die die Zukunft Ihrer Trainings verändern
1. Trainingsbedarfsanalyse
Die Klärung. Sehr detailliert werden hier die Inhalte und Rahmenbedingungen für die Durchführung des Trainings festgelegt.
Topics here are the link to the organisational strategy, the clarification of what actually needs to be changed and thus the setting of training goals. Further, this step is for the clarification of the number of people, who are to be trained, in which countries they are and which languages they speak, and who could conduct trainings internally.
2. Design
Das Herzstück. Passgenaues, lebendiges und nachhaltiges Training entsteht durch die Kombination aus den vom Unternehmen gewünschten Inhalten und meinem kreativen Designprozess.
Knowledge and know-how, vision, strategy and the values of your company – all of these factors influence the design of your training. This way I create a training specifically for you, which fits 100% into your company. This is the only way in which everything building upon it can work.
3. Pilottraining
Der erste Praxisteil. Die echte Zielgruppe und auch die Trainer, die später die Trainings durchführen sollen, kommen hier zusammen und das Training wird so, wie ich es ausgearbeitet habe, durchgeführt und pilotiert.
The participants of the future target group show whether the training fits their needs to achieve the expected change. Your future trainers are wearing two hats in this scenario. On one hand they tell me whether the training fits their requirements in terms of content. On the other hand they question themselves on whether they are able to train others in this way and what other tools they may need for proper execution.
4. Train-the-Trainer Seminar
Die Trainerausbildung. Die zukünftigen Trainer werden ausgebildet, das Training zu trainieren, welches ich konzipiert und dokumentiert habe.
Future trainers get the necessary tools of a trainer and begin straight away to teach the modules of the future training. The repeated training of contents in front of a group and their immediate feedback gives trainers security in two aspects: They learn the content as well as the time lines and become more secure with unintended situations and dealing with them. Besides having lots of fun, this module also shows whether a trainer can be "let loose" onto a group of participants.
5. Qualitätsmanagement
Der Trainer-Check. Hier wird sichergestellt, dass die Trainer auch genau so trainieren, wie es ihnen vorgeben wurde, um Inhalte nicht nur interessant, sondern auch nachhaltig zu vermitteln.
In the so-called Tandem-System, every trainer teaches with a Lead Trainer/Master Trainer. This means that in every training, I take half of the training, while the future trainer takes the other half. This gives the trainer security and immediately shows whether the trainer is not only proficient with the content, but is also able to lead a group and conduct exercises.
If you are interested please contact me.
<style>.at-about-fab { z-index: 999999; position: fixed; right: 150px; bottom: 120px; display: -webkit-box; display: -ms-flexbox; display: flex; -webkit-box-align: center; -ms-flex-align: center; align-items: center; -webkit-box-orient: horizontal; -webkit-box-direction: normal; -ms-flex-direction: row; flex-direction: row; -webkit-transform: translateX(100%); transform: translateX(100%); -webkit-transition: 0.2s ease; transition: 0.2s ease; -webkit-font-smoothing: antialiased; -moz-osx-font-smoothing: grayscale; } <!-- [et_pb_line_break_holder] --><!-- [et_pb_line_break_holder] --><!-- [et_pb_line_break_holder] -->.at-about-fab:hover .at-about-fab__meta { opacity: 1; } .at-about-fab__thumbnail { position: absolute; top: 50%; left: -58px; background: none; width: 260px; height: 294px; padding: 4px; -webkit-box-sizing: border-box; box-sizing: border-box; -webkit-transform: translateY(-50%); transform: translateY(-50%); overflow: hidden; cursor: pointer; } <!-- [et_pb_line_break_holder] --><!-- [et_pb_line_break_holder] -->@media all and (min-width: 768px) and (max-width: 1024px) {.at-about-fab__thumbnail {width: 230px; height: 260px;}}<!-- [et_pb_line_break_holder] -->@media all and (min-width: 768px) and (max-width: 1024px) {.at-about-fab__thumbnail img { display: block; width: 80%; }}<!-- [et_pb_line_break_holder] -->@media all and (max-width: 767px) {.at-about-fab__thumbnail {display:none;}}<!-- [et_pb_line_break_holder] -->@media all and (max-width: 767px) {.at-about-fab__thumbnail img { display: none; }}<!-- [et_pb_line_break_holder] --><!-- [et_pb_line_break_holder] -->.at-about-fab__thumbnail img { display: block; width: 100%; } </style><div class="at-about-fab"> <div class="at-about-fab__thumbnail"> <img alt="ebook" src="https://annalangheiter.com/wp-content/uploads/2018/02/eBook-Website-230px.png" /> </div> </div><script></script>